BZK Custom Aluminum Foil Paper For Wrapping Antiseptic Alcohol Swab/Pad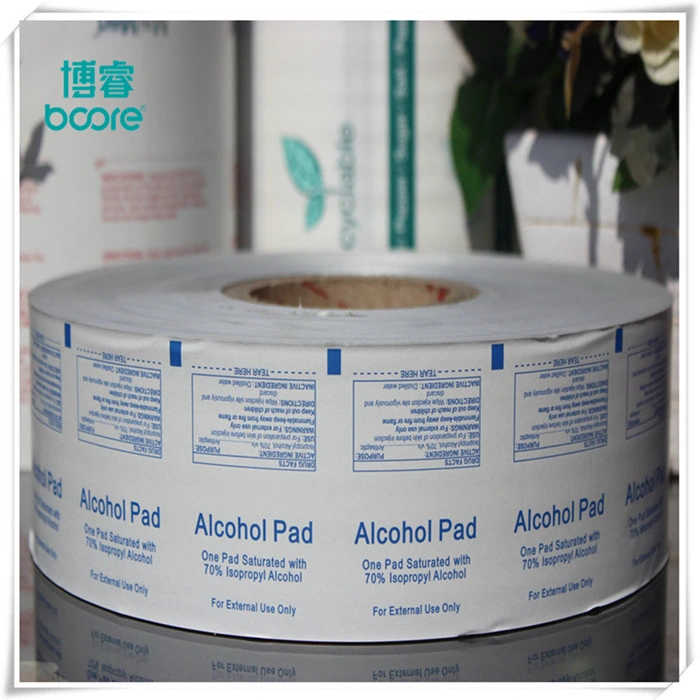 Specification:
Coextruded lamination packaging foil is a kind of eco friendly packaging foil achieved by coextruding layers of PE poly between several kinds of substrate materials and combine them into one integration, so this multilayer foil can be imposed multiple functions and advantages in packaging application, now these eco friendly foils are more and more widely used in packing pharmaceutical ,fast food,multi-plastic package field.


Application Area

Aluminum foil paper for wrapping alcohol swab,alcohole wet wipes etc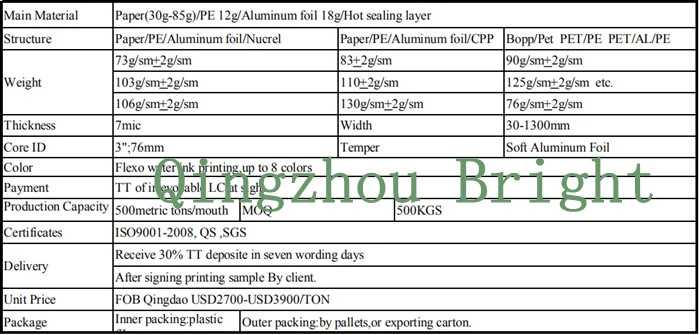 Application:
Our aluminum foil paper can be used for the following product packaging
Wet wipes:
| | | |
| --- | --- | --- |
| Baby wet wipes | Toilet wet wipes | Medical wet wipes |
| Cleaning wet wipes | Kitchen wet wipes | Pet wet wipes |
| Makeup wet wipes | Floor wet wipes | Car care wet wipes |
| Disinfect wet wipes | Bathroom wet wipes | Optical wet Wipes |
| Women wet wipes | Metal surface wet wipes | Wet wipes for airlines |
| Furniture wet wipes | Plastic surface wet wipes | Wet wipes for restaurant |
Alcohol pad:
| | | |
| --- | --- | --- |
| isopropyl alcohol | alcohol disinfection pad | alcohol cotton ball |
| iodine pad | iodine swab | benzalkonii bromidum BZK disinfection wipes |




Certificates: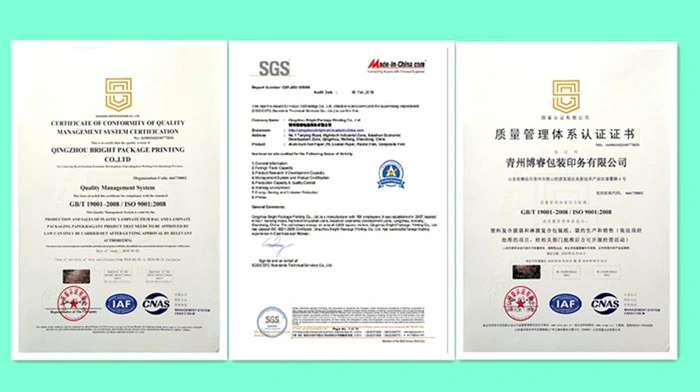 Company Profile:
Qingzhou Bright Package Printing Co., Ltd. specializes in the development and manufacture of packing materials, such as aluminum foil paper and wrapping PE coated paper. We own advanced double-layer extrusion machine, flexible printer and slitting machines, and we are also professional in producing food grade packaging products, such as PE coated paper and multi-layer extrusion laminating paper.

Main Products:
a. Aluminum foil paper for Alcohol Prep Pad,
MATERIAL: PAPER /PE /ALUMINUM/ SURLYN (hot sealing material).
b. Aluminum foil paper for Cleaning Tissue,
MATERIAL: PAPER/ PE/ ALUMINUM/ SURLYN (hot sealing material).
c. Food packing paper for tea, salt, pepper, sugar, and coffee etc.
MATERIAL: 1. PAPER/ PE/ ALUMINUM/ PE, 2.PAPER/PE.
d. Plastic packaging films for wet tissue and food packaging.
MATERIAL: PET(BOPP)/ VMPET (ALUMINUM)/ LLDPE
PET+AL+PE PET+CPP PET+LLDPE PET+MPET+LLDPE
e. Disposable paper couch cover roll for hospital or beauty SPA to cover the examination table or the massage bed.
MATERIAL: 1ply paper,1ply film
f. Paper for paper tube can (inner layer of composite can),widly used for Paper Can/Wine Can/Paper Tube/Paper Canister/Paper Packing Can.

MATERIAL: PAPER/ VMPET(ALUMINUM)/ PET.
Contact Details: