Antigen Saliva swab/Spit test Strip Medical kit Rapid Diagnostic Test Coil 19 test
Product Description For

Coil 19 Antigen Rapid Test
The IMMUNOBIO

2019-N-C Saliva Swab test Antigen Test Kit
for detection of
2019-N-C
antigens. Anti-
2019-N-C
monoclonal antibodies are coated in the antigen test line and conjugated with the colloidal gold. During testing, the specimen reacts with the anti-coil 19 antibodies conjugate in the antigen test strip. The mixture then migrates upward on the membrane chromatographically by capillary action and reacts with another anti-
2019-N-C
monoclonal antibodies in the test region. The complex is captured and forming a colored line in the Test line region.
The
2019-N-C Saliva test Antigen Test Kit
contains anti-
2019-N-C
monoclonal antibodies conjugated particles and another anti-coil 19 monoclonal antibodies are coated in the antigen test line regions.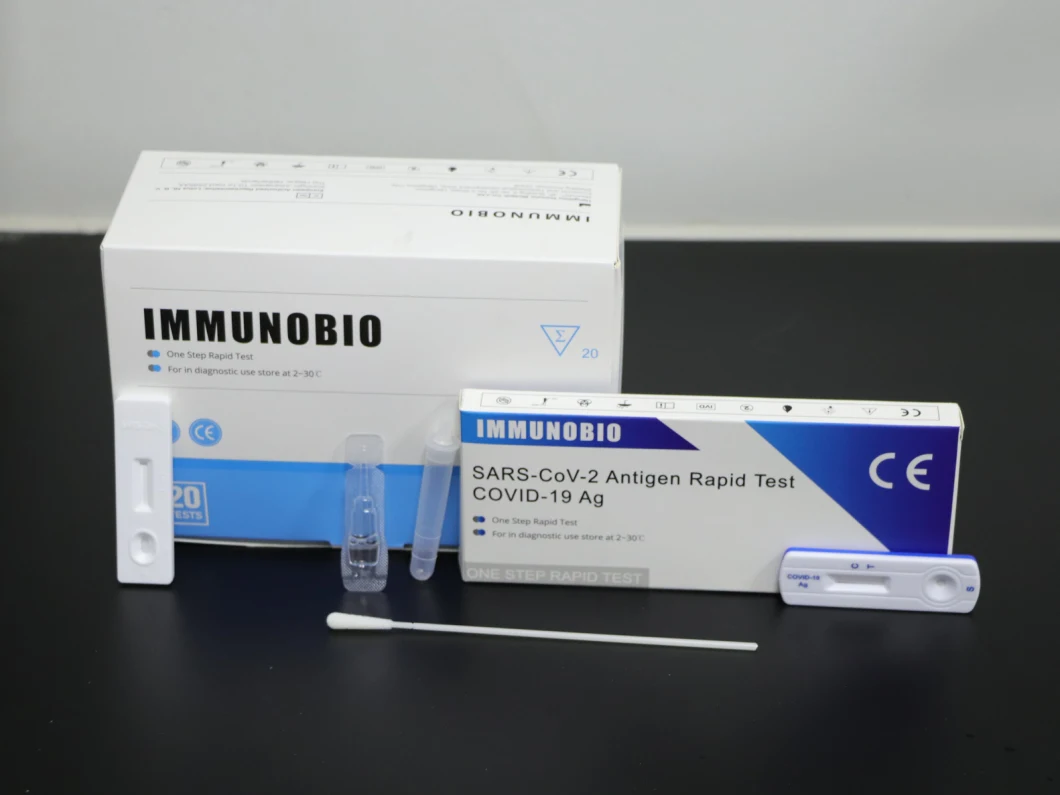 Authorized
certificatio
ns
For

Coil 19 Antigen Rapid Test
CE Approved

Approve

by German Ministry of Health

China's white list approved 19 N-C Antigen Test Kit White list

manufacturer

Features
For

Coil 19 Antigen Rapid Test
A.Fast Test, antigen get result within 10-15 minutes.
B.

High sensitivity and specificity
C.Easy to operate, no need equipment, convenient and fast
E.Require little Specimens, few Nasal or throat swabs
D. Both Saliva and Nasal Swab applicable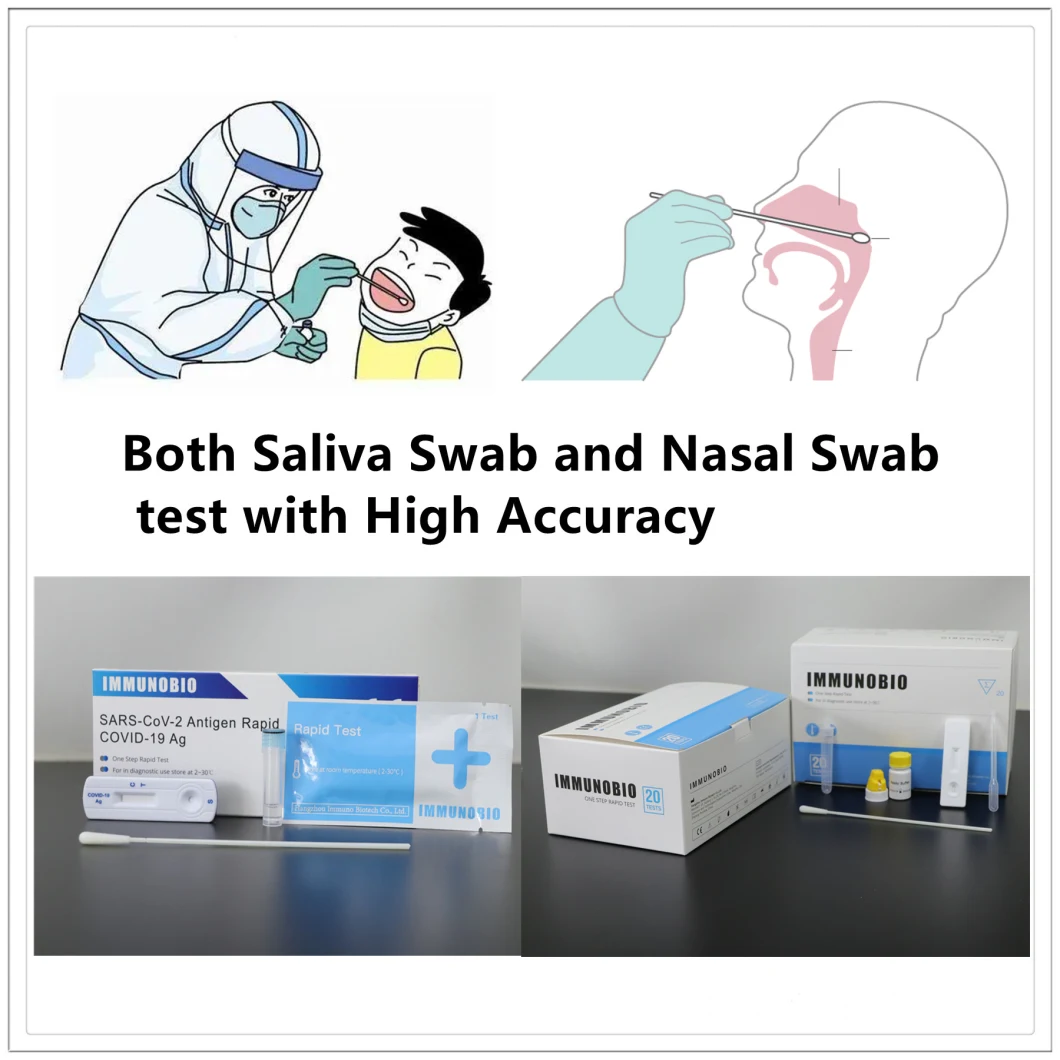 Product Information
For

Coil 19 Antigen Rapid Test
| | |
| --- | --- |
| Test Type | Antigen Test |
| Test Principle | Colloidal Gold Method |
| Sample Type | Throat Secretions or Nasal Secretions |
| Sample Volume | 3 Drops of Extracted Solution (about 100µl) |
| Qualitative/Quantitative | Qualitative |
| Test time | 15mins |
| Operation Temperature | 15-30°C |
| Storage Temperature | 2-30°C |
PERFORMANCE CHARACTERISTICS
For

Coil 19 Antigen Rapid Test
1. Sensitivity, Specificity and Accuracy




IMMUNOBIO

2019-N-C

Rapid Antigen Test

has been compared with a commercial gold standard reagent (PCR). The result showed the relative sensitivity and specificity





Relative Sensitivity: 95.60% (95%CI: 88.89%~98.63%)
Relative Specificity: 100% (95%CI:98.78%~100.00%)
Accuracy: 98.98% (95%CI:97.30%~99.70%)


2. Cross-reactivity:




The IMMUNOBIO

2019-N-C

Rapid Antigen Test is associated with parainfluenza virus antigen, influenza A virus antigen, influenza B virus antigen, Chlamydia pneumoniae antigen, Mycoplasma pneumoniae antigen, adenovirus antigen, respiratory syncytial virus antigen, hepatitis B surface antigen, Hepatitis C virus antigen, Treponema pallidum antigen, human immunodeficiency virus antigen, EB virus antigen, cytomegalovirus antigen, enterovirus 71 antigen, mumps antigen, chicken pox-zoster virus positive samples did not cross-react.




3.Interfering Substances:




The following compounds have been tested using the

IMMUNOBIO

2019-N-C

Rapid Antigen Test

and no interference was observed.

Packing for Antigen Test kits
Packing

Image

Package Content

20tests Kit/packing box

1 Instruction for use
20 Test Cassettes
20 Antigen Extract Buffer
20 Antigen Extraction tubes and Drop tips
20 Sterilized swap

1 test kit/packing box

1 Test Cassettes
1 Intsruction for use
1 Sterilized Swap
1 Extractiob Tube
1 Dropper Tip
1 Extration Buffer
Antigen Test producer For

Coil 19 Antigen Rapid Test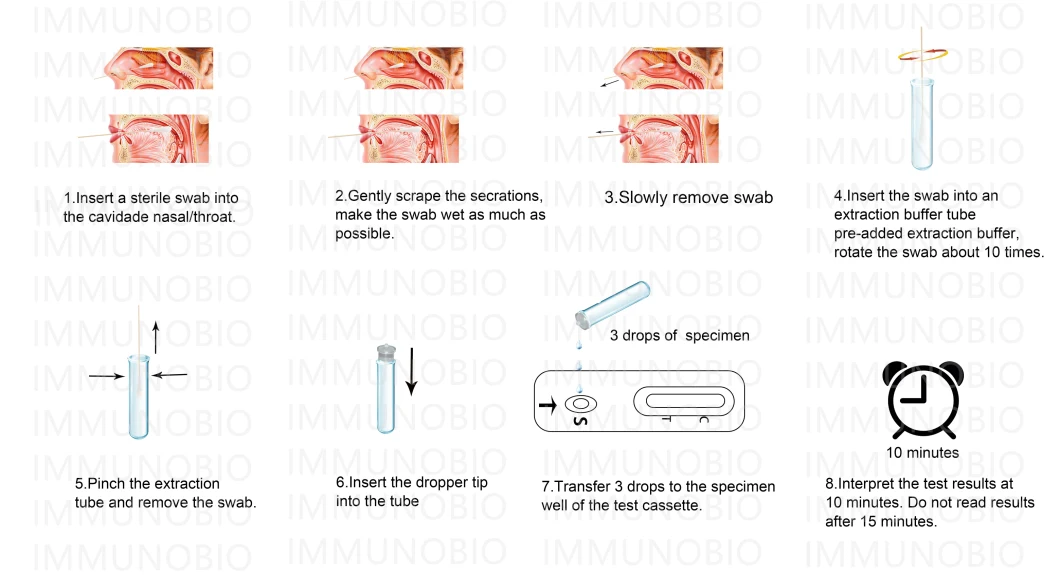 Company Profile
Hangzhou Immuno Biotech Co., Ltd. is a R&D based company located in Hangzhou. Immunobio is well known as a recombinant protein original designer and supplier in the upstream of in vitro diagnostic field. Immunobio is also a professional rapid test manufacturer who has advanced technology in veterinary diagnostic and human medical diagnostic industries. Immunobio has more than 30 authorized patents in IVD field and more than 20 under review.

To fight against the Coil 19 , Immunobio has developed a series of rapid diagnostic test on Coil-19. In early February 2020, we released the Coil 19 IgG/IgM Antibody Rapid Test for the IgG and IgM antibodies testing. Then in September, Immunobio has successfully developed the coil Antigen Rapid Test (coil-19 Ag) to support the fast screening of antigen test. In December 2020, a coil 19 Neutralizing Antibody Rapid Test (Coil-19 Ab) was developed in success, to indicate the protective status of the neutralizing antibodies in people's blood.

Hangzhou Immuno Biotech Co., Ltd. is doing and will continue doing innovative research and development in the IVD medical diagnostic field. Immunobio will keep our promise to provide the innovative and competitive products for a healthy world.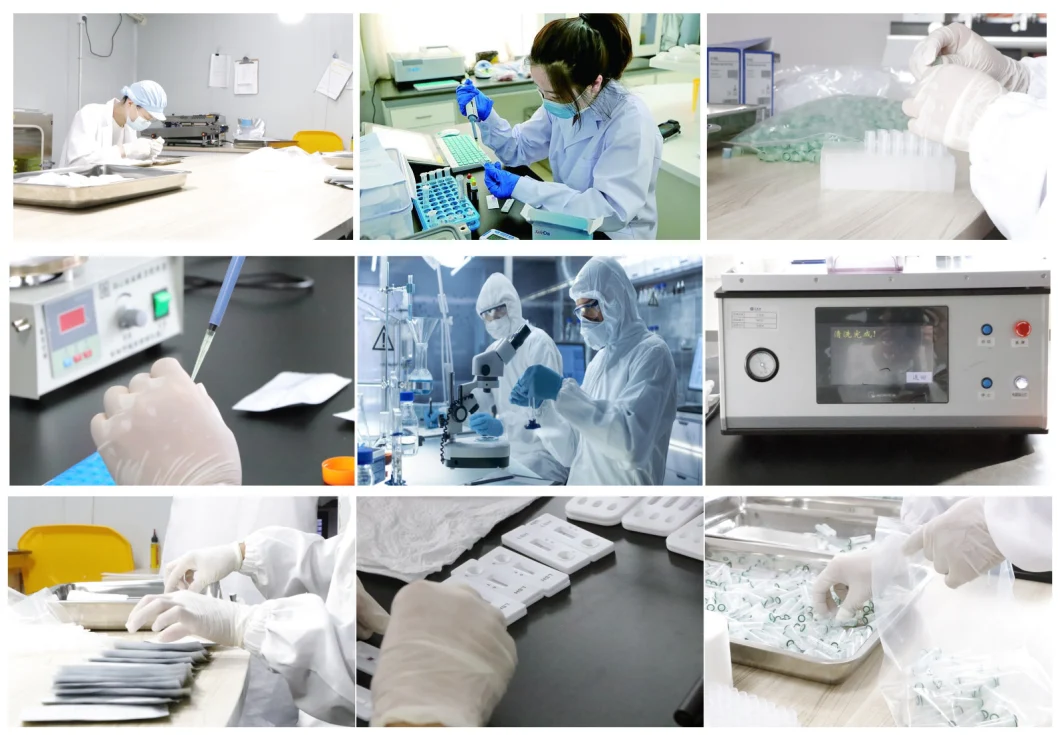 Certifcations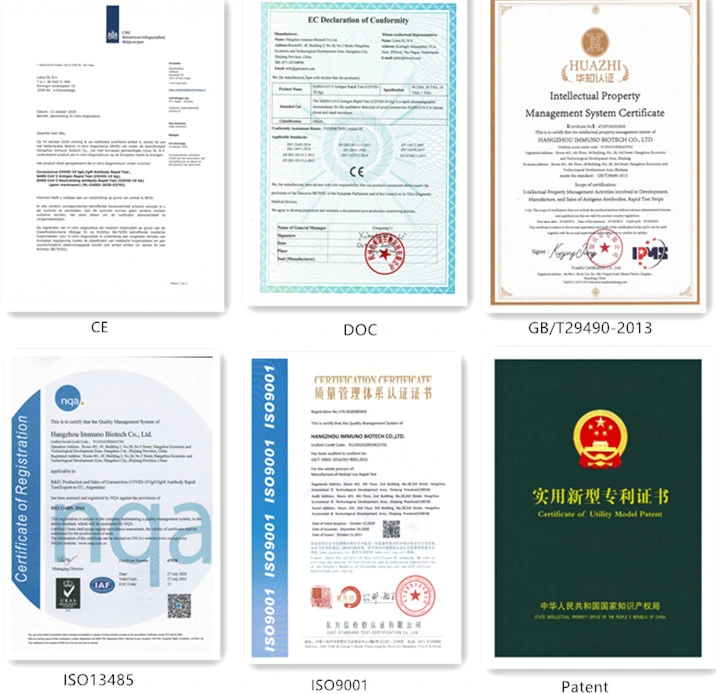 Logistics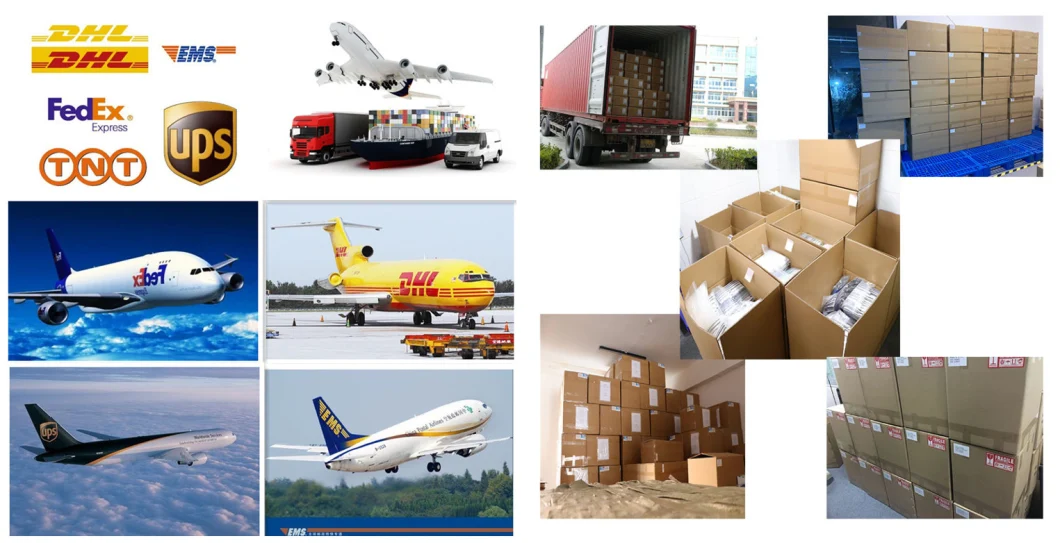 Our Service
Factory price, reasonable and competitive

OEM/ODM service, Not only packaging and brand customization, we have our own laboratory and R&D team, which can develop and customize proprietary products for customers

Timly and quickly feedback, anytime and anywhere for customer service.

Provide professional training and quality samples to help customers develop the market

Flexible trading methods to meet customer and business needs
FAQ
Question 1:
Can I get samples before play batch order?
A: Qulaified sample is available, details please contact with our sales.
Question 2:
How about the MOQ?
A: MOQ is more than "0", but our sales team will advise you how much to order based on the products you need, national market conditions, international logistics costs and other factors
Question 3:
How about the quality?
A: We already get CE, and also on the white list of Chinese goverment, furthermore, you can find our test result result on the wesite of German Ministry of Health
Question 4:
Where is your factory? Can I visit your factory?
A:We are in Hangzhou, Alibaba also located in here, half an hour from Shanghai by high speed train. You are welcomed anytime that you visit us.
Question 5:
Do you factory or trading company
A: We are factory, all product we supply is R&D and produce by ourself.
Question 6:
How can I pay?
A:
You can pay USD, EURO & RMB via T/T, PayPal or Western Union.
Question 7:
Which certificate you have:
A: CE/ISO13485